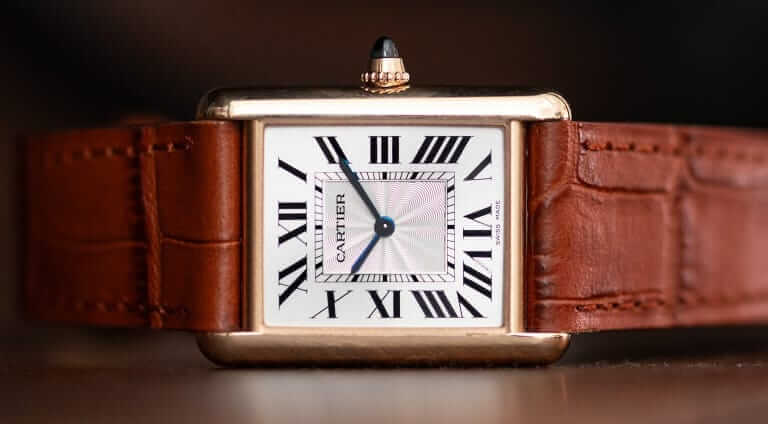 You don't have to be a "watch guy," or even wear a watch, to know the Cartier Tank. The elegant dress watch is sturdy enough for daily wear but retains a distinct Parisian refinement, and comes in a handful of variations. It's become one of the most highly-coveted and copied wristwatches of all time. But there's a lot more to this legendary timepiece than just good looks and fancy French lineage.
There's also the pantheon of men who've worn it over the years. The understated elegance of the slim Tank watch has been strapped to the wrists of legends and leading men, provocateurs and style icons—Cary Grant, Steve McQueen, Muhammad Ali and Andy Warhol to name a few from the past. More recently, you'll see gents as varied as Ralph Lauren and Kanye West, Jeff Goldblum and Henry Golding all sporting one.
"What's amazing is that the Cartier Tank wristwatch—which has accompanied every major happening in the last hundred years—has not changed in design in a hundred years," Harry Fane, a renowned Cartier watch dealer told GQ. "So it's an interesting story of endurance and design."
So where does the story begin? Perhaps, not surprisingly, with an actual tank. During the first World War, Louis François Cartier served as a driver who occasionally made his way to the front lines. In her book, The Cartiers, Francesca Cartier-Brickell writes that "He would later claim that it was on one such visit to the front that he came up with the idea for what would become one of Cartier's most iconic creations: The Tank watch."
After being released from his military service in the spring of 1917, Cartier went back and created the watch. The rounded brancards on each side of the case—inspired by the tank's treads—act as lugs and are the attachment points for the strap as well. The original Tank watch even featured the distinctive blue sapphire cabochon winding crown—something that remains a signature of modern Cartier watches today.
The first Tank watch was at the forefront of a rectangular timepiece trend, but its position as a unisex classic has endured as trends have come and gone, for well over a century. And the design has remained relatively unchanged. If there is a downside to actually producing a genuine design icon, then it's surely the challenge of continually making that item feel fresh and exciting, without mucking up the very essence that made it iconic in the first place.
Over the years, the watch never lost its sophisticated styling. But Cartier did let it evolve with the times. As the quartz crisis (or revolution depending on whose side you're on) ravaged the horological universe, many old school watch brands simply couldn't compete. Hodinkee says Cartier employed the "if you can't beat 'em, join 'em" offensive. They introduced the Must de Cartier collection—a modern collection of minimal watches with colored dials. Fitted with quartz movements and a more affordable price tag, the collection was perfectly timed for the moment.
And while the classic Tanks are still available, those bold design decisions keep coming. In fact, the Must collection has returned (just in time for the revival of all things '80s and '90s). And just this month, Cartier is introducing its first light-powered watch: the Tank SolarBeat. The design looks indistinguishable, but hidden under those Roman numerals are photovoltaic cells that convert light into power, like solar panels. Cartier says this Tank will keep on ticking for at least 16 years before it needs a service. And furthering its sustainability, the straps are made from a vegan leather.
So it's fair to say that the Tank watch is in it for the long haul. There's no question that the watch was in style when your grandfather was your age, it's in style now and that it'll be in style four decades from now. If anything, that's what keeps some guys from wearing it. Is it too familiar? But then you put one on and see that debonair style wrapped around your wrist, and you just can't resist it.