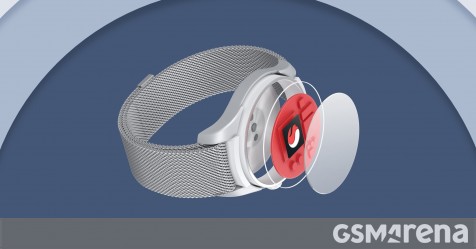 Qualcomm's Snapdragon Wear 4100 series chipsets feel painfully outdated in terms of efficiency, especially since they target the form factor that is the most constrained in terms of battery. The company allegedly has a new design in the pipeline that will address that concern, though it feels like a half measure.
The Snapdragon Wear 5100 will feature four Cortex-A53 cores, according to WinFuture. For comparison, Samsung's Exynos W920 has two Cortex-A55. That's less performance overall, but a boon for power efficiency, which is key. According to ARM, the A55 "delivers up to 18% more performance at 15% better power efficiency when compared to its predecessor, the Cortex-A53".
Qualcomm is reportedly testing the chip in several configurations. Some have 2GB of LPDDR4X RAM and 8GB or 16GB of eMMC storage.
The new design will also feature an improved AON co-processor, which can handle simple background tasks, e.g. counting steps and refreshing the Always On display when needed, while drawing much less power than the main CPU cores.
The Snapdragon Wear 3100 and 4100 series supports Wear OS 3.0
Of course, most of the Exynos chip's efficiency comes from being manufactured on a modern 5nm node. The Wear 4100 series was made on an age-old 12nm process. The info available so far points to Qualcomm tasking Samsung's foundries to produce the 5100 chip, unfortunately it's not clear which node will be used.
Interestingly, China's SMIC is also mentioned – the company has a 14nm foundry up and running and is supposed to have a sub-10nm line ready to go. This would allow Chinese makers to source smartwatch chips locally instead of importing from Samsung or TSMC.
The chipset will support two cameras – one 16MP and one 5MP. Some kids watches have two cameras, one for photos and one for video calls with mom and dad. This could also come in handy in other low-power applications.
By the sound of it, it will be a while before the Snapdragon Wear 5100 is ready for launch. Qualcomm will probably try to secure orders from Chinese brands, which are the biggest smartphone vendors aside from Samsung and Apple (but those two prefer to use their own chipsets).