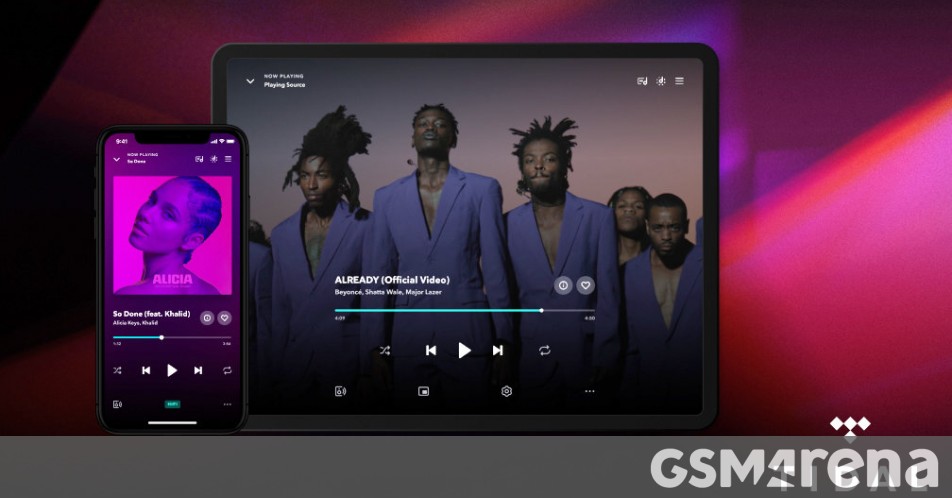 Tidal today is announcing major changes to its platform, with addition of new pricing tiers as well as payment options for artists.
Starting with the tiers, the company now has a free tier. Users will be able to try the service at no cost with the downsides being the audio quality limited to 160kbps AAC and ad interruptions.
The previous $10 Premium plan has been renamed to HiFi and instead of 320kbps AAC now offers CD-quality lossless* 1411kbps FLAC (more on this later). The rest of the plan remains the same as before.
The previous $20 HiFi plan has been renamed to HiFi Plus. This plan now adds access to high-res* MQA, Dolby Atmos, and Sony 360 Audio encoded music. It also includes two new features, Direct artist payouts and Fan-centered royalties.
Direct artist payouts will take 10% of the subscribers' membership fee and give it to their top streamed artist. The more you listen to an artist, the more they will get out of your 10%. Your favorite artist of the month will be highlighted in the profile along with how much they got paid. This is, of course, on top of existing payment options for artists and not a replacement, which should ensure artists earn more, provided people actually listen to them.
Fan-centered royalties will send royalties from your listening directly to the artist instead of aggregating it. This will cause artists that get listened to more to generate more revenue. Users will see the artists they listened to and how much they got paid. This feature will go live in January 2022.
Getting back to the audio quality, the standard HiFi tier continues to offer a mix of true lossless and compressed, unfolded MQA files under the unified HiFi banner and there's no way for the user to know the difference between the two. Meanwhile, the Master quality option only offers compressed MQA files, which most of the time aren't even high res. Due to these reasons, and the shady business practices of MQA in general, is why audiophiles generally recommend avoiding Tidal for those who seek true lossless audio.
Shenanigans with audio codecs aside, the new artist payout options are steps in the right direction. Then again, Tidal is one of the smallest streaming services out there by far so it's probably not going to make as big a difference as one might think.